Registration & Housing
Convention Registration
Registration is $20 per person and closes June 1, 2018 for CDEs and proficiency award tickets. All CDE participants must pay the full $20 registration fee. Click here to register for convention activities. Printed programs are only guaranteed for guests registered by June 1. Registration for convention tickets after June 1 will increase to $25 per person and convention materials cannot be guaranteed.
**REQUIRED FOR 2018**: A completed waiver must be provided for each student that attends State Convention. Signed waivers will be collected at Convention registration (main lobby of the Raleigh Convention Center). Students without a signed waiver will not be able to attend sessions or compete in CDEs. Click here for the NC FFA State Convention waiver.
If you would still like to register your chapter to attend the general convention sessions after the deadline, please email Megan Blanke at megan_blanke@ncsu.edu.
This year, we will be offering a State Convention single session pass for members and guests for $5. Each session will be designated with a different color wrist band and there will be a $5 replacement fee for lost wrist bands. Parents of members will be able to attend any one session for free, but if they wish to attend more than one session, they will be required to pay the full registration fee of $20.
NOTE: There will also be a $25 penalty fee in addition to the registration fee for any member that competes in a state-level CDE and is not a current FFA member (current member = membership info submitted via ffa.org and FFA state and national dues paid prior to June 1).
Housing
The North Carolina FFA Association has contracted nearly 700 rooms in two downtown Raleigh Hotels. We have taken the time to develop a housing system that will contribute and add to the overall convention experience for students. For this reason we endorse FFA members staying at these hotels. Please visit the links below to book your rooms for the convention and don't wait! Rooms are sure to fill up quickly.
Sheraton Raleigh Hotel
Get lost in the sights and sounds of downtown Raleigh. The Sheraton Raleigh Hotel is less than a block from the Raleigh Convention Center and just a leisurely walk from the State Capitol, museums, and restaurants.
More information about The Sheraton Raleigh Hotel
Make reservations at The Sheraton Raleigh Hotel
421 South Salisbury Street
Raleigh, North Carolina 27601
Phone: (919) 834-9900
Fax: (919) 833-1217
Marriott City Center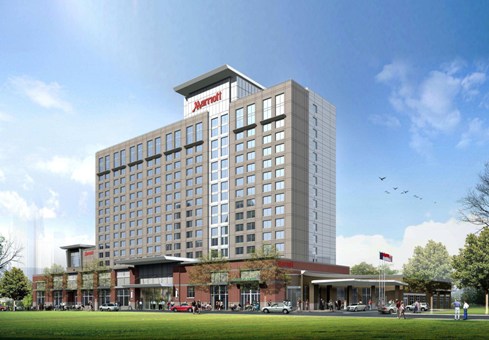 With this downtown Raleigh hotel's location, you're in the heart of it all. Connected to the Convention Center, the Marriott City Center's spacious guest rooms feature luxurious bedding, Wi-Fi and 37-inch flat-panel plasma TVs. After a day of convention sessions, CDE competitions or sightseeing, guests of this hotel's accommodations can relax in the indoor pool & whirlpool or visit the well-equipped fitness center.
More information about the Marriott City Center
Make reservations at the Marriott City Center
500 Fayetteville Street
Raleigh, NC 27601
Phone: (919) 833-1120
Fax: (919) 833-8912
Travel Directions
The Raleigh Convention Center is located between McDowell and Salisbury Streets in the downtown area, just one block from Fayetteville Street. It is easily accessible and just minutes from I-40 and Capital Blvd. Click here for more detail on navigating downtown Raleigh and Convention Center. This travel document will also explains bus procedures for navigation, parking, and hotel/convention drop-off zones.
Parking
There are eight parking decks or lots located within 1 block of the convention center. Activity buses can drop students off at Convention Center's Cabarrus Street entrance and park in the lot directly off of South Street, just one block from the center.
View a PDF file of Downtown Raleigh
In addition to FFA activities, there are plenty of other things to do in the Downtown Raleigh area. There are more than 40 restaurants in the Fayetteville Street district alone, plenty of shopping opportunities and several museums with tours available. During the 2017 State FFA Convention, FFA members, advisors and guests had an economic impact of nearly $1 million. You can also use the R-Line, a special bus system that services downtown Raleigh and picks up right in front of the Convention center. Visit the R-Line webpage to see the bus schedule for downtown Raleigh. Visit GoDowntownRaleigh.com for more information on dining, shopping, and entertainment locations.
Convention Overview | Convention Activities | Around Downtown Raleigh