Ty Meyer
State Vice President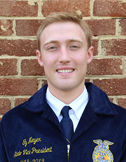 Ty Meyer is a proud 2018 graduate of Hobbton High School. He currently attends NC State University where he is majoring in Agricultural Business and Political Science.
Ty's journey with the FFA begain in 9th grade when he competed in the Dairy Evaluation Career Development Event. He has been a member of multiple CDE and LDE teams over the part four years. Ty has held several different officer positions on the chapter level, and even had the opportunity to serve as President of the Southeast Region during his senior year.
Ty's passion for agriculture began at a young age when he was helping out on his father's and grandfather's turkey farms. He embraces this passion for turkeys by maintaining a poultry production SAE.
When not busy with the FFA, Ty enjoys golfing, running, and reading. He is active in both his local community and church. Ty enjoys spending time with his sisters: Claire and Anna, and the family dog, Queso.
Ty is a quote enthusiast and believes that each person has a story through their "lives quote". He looks forward to getting to know FFA members from Murphy to Manteo this year by better understanding the impact FFA has had on their lives.