Sara Beth McLamb
State FFA President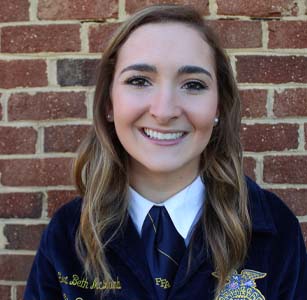 Sara Beth is a proud graduate of Millbrook High School in Raleigh, North Carolina. She currently attends NC State University where she is majoring in Agricultural Education and minoring in Horticultural Sciences.
Sara Beth was in FFA all four years of high school, through which she served as a chapter officer for three years, as a federation officer for two years, and as the East Central Region Reporter and Secretary her junior and senior years. She has competed in a wide variety of CDEs, winning 5 state-level competitions, including Agricultural Communications, Agriscience Fair, Marketing Plan, Extemporaneous Public Speaking, and Agricultural Sales. She has also competed at the national level in Agricultural Communications, Extemporaneous Public Speaking, Farm Business Management, and Agricultural Sales.
Sara Beth is a proud Ziglar Youth Certified Trainer, a program she completed in 2017, which has brought her opportunities to travel across the country facilitating workshops for youth. Aside from FFA, she is actively involved in NC State Athletics, Cru, and AEE Club, She is also a member of Sigma Alpha Omega, a Christian sorority at NC State. She also enjoys spending time at the lake, The Office, and road trips!
Sara Beth looks forward to her year of service as a state FFA officer because of her belief that one of the greatest gifts in life is helping others find their passion and voice in this world. One of her greatest hopes is that her life will be marked by her selfless love for others and service in helping others realize their full potential. She is a firm believer that inside every person is gold that needs to shine, but often times it is covered up by the dirt and lies that this world tells us. Her hope is to help remove those misunderstandings to help everyone become who they were uniquely meant to be!