Milsoh McAdoo
State Vice President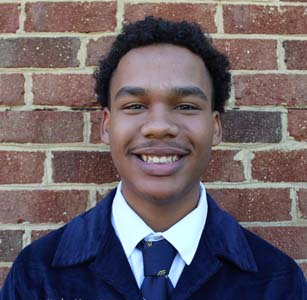 Milosh McAdoo is a 2019 graduate of Orange High School in Orange County, North Carolina. He currently attends North Carolina A&T State University, where he majors in Animal Science as a Cheatham-White Scholar.
Milosh has some exposure to agriculture throughout his childhood, but didn't find clear direction for his interests until he reached high school. His first impactful experience in FFA was competing in the Creed Speaking CDE at both the regional and state level and placing third in both. He served in multiple offices at the chapter and regional level, including West Central Region Vice President his junior year and President his senior year.
When Milosh isn't traveling the highways of North Carolina for FFA members, you can find him working with his goats, watching movies, or hanging out with his family.
Throughout this year, Milosh is most excited about helping members discover their own uniqueness, while simultaneously shedding light on their individual strengths. He hopes to fully invest in the experiences of members so that they can discover their place in the organization.