Max Hagaman
State Vice President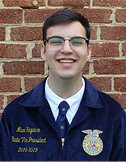 Max Hagaman is a proud 2018 graduate of Watauga High School in Boone, North Carolina. He currently attends NC State University where he is double majoring in Agricultural Business Management and Communication.
Max has been in FFA all four years of high school, through which he served as a chapter officer for three years, as a federation officer, and as the Northwest Region Vice President and President his junior and senior years, respectively. He has competed in a wide array of Career Development Events, his favorites being Farm Business Management and Parliamentary Procedure, in which his teams placed 3rd and 1st during his senior year, respectively.
Max is the son of two elementary school teachers and has lived just north of Boone in the mountains of Western NC all his life. Outside of FFA, he is actively involved with the Younglife ministry and is active in his church, The Heart, at home in Boone.
Max is ecstatic to get the chance to serve the members, advisors, and partners of the North Carolina FFA Association over the coming year, and cannot wait to help play his part in developing premier leadership, personal growth, and career success!