Kaleb Wilson
State Vice President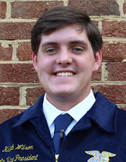 Kaleb Wilson graduated from West Columbus High School in 2018 and is currently attending NC State University majoring in Agricultural Business Management.
Kaleb's first experience with the FFA was his participation in the Tractor Driving Career Development Event. Kaleb has competed in various CDEs including Land Judging, Livestock Evaluation, Dairy Evaluation, and Forestry. He has held several different officer positions on the chapter, federation, and regional levels. He has served as Regional Reporter as well as Chapter and Federation President his senior year.
Kaleb's interest in agriculture began when he was young due to his interactions with his family's beef cattle and turkey farm. These interactions are what inspired Kaleb to pursue a degree in Agricultural Business.
When not participating in FFA activities, Kaleb enjoys spending time with family and friends and working on his family's farm.
Kaleb hopes to inspire members to achieve all that they can achieve. He looks forward to giving back to North Carolina FFA.