Daniel Toole
State President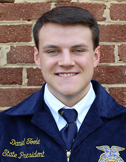 Daniel Toole is a proud 2018 graduate of Brevard High School in Transylvania County. He currently attends NC State University and is pursuing a major in Biological Sciences as a Park Scholar.
Daniel's first experience in FFA was Envirothon, in which he didn't win but gained insight into FFA and agricultural education. He has competed in many other career development events such as Creed and Forestry, and has served as chapter and regional officer. During his senior year, Daniel served as President of the West Region FFA.
Outside of FFA, you can find Daniel playing some melodious tunes on the banjo, reading as many books on American History as possible, or drinking multiple cups of coffee. He also enjoys hiking, hunting, fishing, landscaping, and spending times with friends and family.
Daniel looks forward to interacting with members across the entire state of North Carolina and helping them see their full potential for leadership and influence. He is excited to give back to NC FFA, an organization which has contributed so much meaning to his life.