Anna Young
State Vice President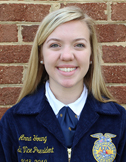 Anna Young is a proud graduate of the class of 2018 at Madison High School. She currently attends Haywood Community College and is majoring in Agri-Marketing.
Anna began her journey through FFA in ninth grade and later began her time serving as an FFA officer the following year in tenth grade. During her time as a member of the Madison FFA Chapter, Anna competed in various Career Development Events such as Forestry, Quiz Bowl, and Parliamentary Procedure, in which her team placed in the silver division at the national level. She has also served in various different leadership positions both at the chapter and regional level, where she served as West Region Vice President her senior year.
Anna found her passion for agriculture very early in life with her upbringing in an agriculture-based home, where she learned various tasks ranging from raising beef cattle to sowing the family garden. She strengthened this passion by following in the footsteps of previous family members and obtaining a blue jacket of her own.
When found outside of FFA, Anna is involved with her local 4-H club where she serves as Vice President. She also enjoys photography, marksmanship, and being involved with the church in her community.