Orange FFA Hosts Ag Day 2015
On October 6, 2015, Orange High School celebrated a treasured tradition of the Orange High School Agricultural Department, Ag Day. Ag Day has been held every October for years, rain or shine, although we did postpone this year for a hurricane. Ag Day is a day for the entire school to learn about agriculture while also watching competitions, participating in club fundraisers, playing games, and just having fun!
Ag students are required to bring in an agriculturally-related project. Taxidermy displays, livestock, tractors, chainsaws, saddles, and many more projects are featured for the whole school to see. When everything is setup for the day, the ag shop is full of decorated baked goods, mounted deer, bear, and boar heads, saddles, antique saws, chainsaws, homemade preserves, and more. The ag shop is also occupied by various other clubs throughout the school who fundraise as well. More club booths are found outside the ag building. Some of these clubs have their own games and contests, which allows for all groups at OHS to be involved in the event. Down at the ag barn, a few students brought in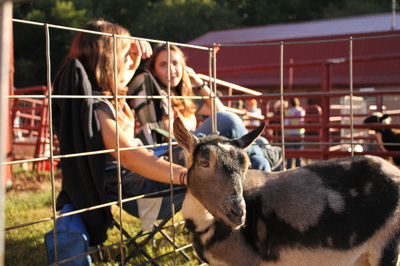 goats, sheep, horses, donkeys, dairy calves, rabbits, ducks, and chickens. Students are also allowed to walk through the barn, which holds goats, pigs, chickens, and steers. This year we also had four piglets students could meet! The rest of our space is taken up by ag students participating in our chicken cooking contest. Amazing food cooked by Orange FFA Alumni is available throughout the day. Baked goods and homemade ice cream provided by the students are very popular as well.
Throughout the day we have many competitions for ag students. We started off with the chainsaw contest where participants are timed on how fast they can cut through a log. We also have a pie eating contest, a hay bale toss, and a talent show. A welding contest is held in Mr. Rusty Wagoner's shop to see which ag mechanics student can run the cleanest bead. Ag iron man and woman is a strength competition involving carrying hay bales, bags of feed and a tractor tire up a hill. The bow competition includes 10, 20, 25, and 40 yard targets. Finally, one of our most popular contests is the chicken cooking contest. Students have to weld a grill in class before Ag Day and then their team spends the morning cooking the best chicken they can on the grills.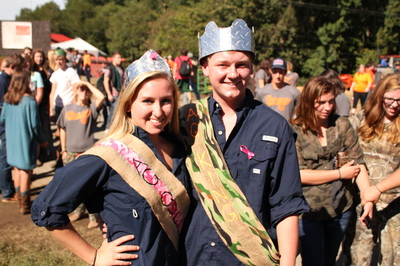 One of our fundraisers for the ag department is Ag Day King and Queen. Ag students are nominated the week before Ag Day and a jar is put out for each nominee the day of Ag Day. Students can come and put money in their friend's jars to vote for them. The jar with the most money at the end of the day is named Ag Day King and Queen. This year's Ag King and Queen were chapter officers, Spencer Walker and Brooklyn Hux.
Overall, Ag Day is a beloved tradition, not only to the ag department but to the whole school and community. It would not be possible without the support from our administrators and community, or the help from volunteers, chapter officers, ag students, and our advisors, Mrs. Moore, Mr. Latta, Mr. Wagoner, and Mrs. Aldridge. Ag Day unites Orange High School through agriculture, tradition, and education.
- Hunter Hall, Chapter Reporter
View more photos at: http://orangeffa.weebly.com/ag-day.html