Welcome to the 88th North Carolina FFA State Convention!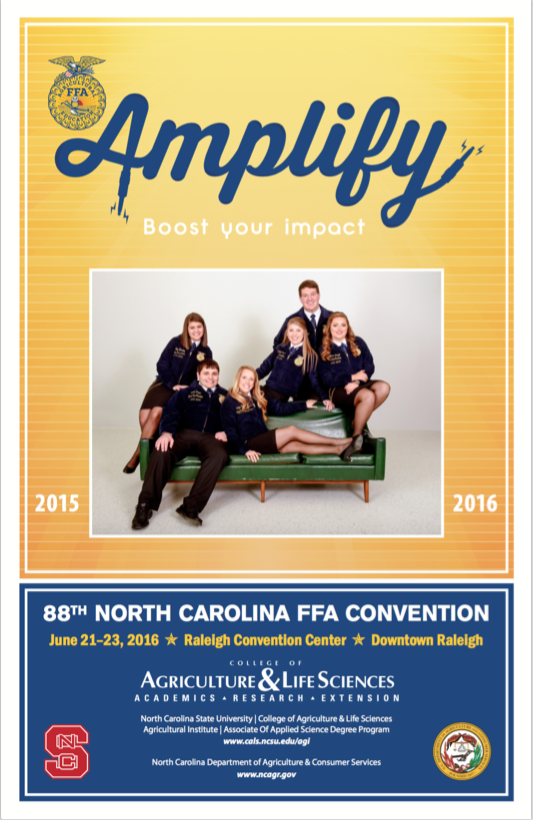 On June 21-23, 2016, North Carolina will celebrate 88 years of excellence with the theme Amplify. The annual State Convention is the highlight event of the year for FFA members. It is the culmination of a year's worth of events where FFA members have the opportunity to celebrate their achievements, be recognized for their individual and community efforts, compete with other members and kick off another exciting year in agricultural education. Whether receiving your state FFA Degree, competing in a career development event, visiting the career show, participating in the Day of Service or attending a session, you are preparing for your future in exciting ways. Join us in downtown Raleigh and show your belief in agricultural education as we celebrate the 88th North Carolina FFA Convention!
Registration & Housing | Convention Activities | Around Downtown Raleigh
Location
Since opening in September 2008, the Raleigh Convention Center has been a remarkable resource for groups from 50 to 5000. Nestled in downtown Raleigh, with surrounding restaurants, the State Capitol, shopping and other attractions, we believe the Raleigh Convention Center is the best site for the best convention ever! While in the convention center, FFA members will experience motivational speakers, award presentations, an exciting career show, and participate in career development events, not to mention a block party!
Raleigh Convention Center
500 South Salisbury Street
Raleigh, NC 27601
(919) 996-8500 Phone
(919) 996-8550 Fax
Attendance
Attendance at the 2016 North Carolina State FFA Convention is open to all bona-fide due paying members, advisors, parents, sponsors, alumni members, and special guests. An appointed school district representative or chaperone must accompany all FFA members. Admission is $20 per individual. Attendees should wear their convention lapel pin to gain entrance to the general sessions, career development events, and career show.
Dress Code
Official dress is encouraged for all members attending general sessions. North Carolina FFA reserves the right to limit students not in official dress, as outlined in the Official FFA Manual, from entering the stage for recognition.
Females
Black skirt
White collared blouse
Official FFA blue scarf
Black dress shoes with closed toe and heel
Official FFA jacket zipped to the top
Males
Black slacks
White collared shirt
Official FFA tie
Black dress shoes
Black socks
Official FFA jacket zipped to the top
Registration & Housing | Convention Activities | Around Downtown Raleigh