Malachi Curtis
State FFA Vice President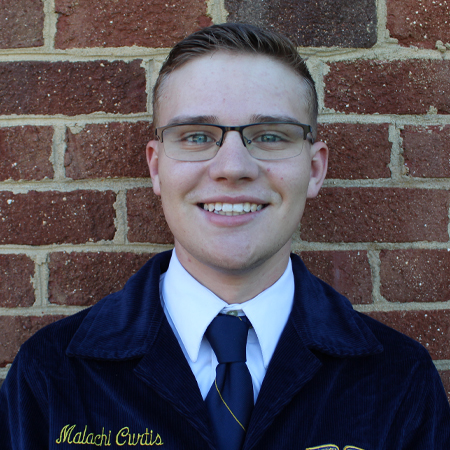 Malachi Curtis is a proud 2018 graduate of East Burke High School. He is currently attending NC State University where he is majoring in Agricultural Education.
Malachi's journey in FFA began when he took his first agriculture class and instantly fell in love with agricultural education. He found a home in the agriculture classroom and knew that was where he was meant to be. He competed in numerous CDEs and LDEs over his four years at East Burke. His favorite was Prepared Public Speaking, as this allowed him to speak on subjects that he is passionate about. He also served as chapter Reporter and President, as well as Secretary of the Northwest Region his senior year.
Malachi's passion for agriculture began at young age as he would pass fields of corn and cattle, but was fully developed when he began his journey with FFA and agricultural education. Since then, he has owned goats and cattle for his SAE project.
When not busy with FFA events, Malachi enjoys watching baseball, spending time with friends and family, and binge watching the newest popular Netflix series.
Malachi is thrilled to have this opportunity to serve the members of the North Carolina FFA Association over this year.