Welcome to the NC FFA Alumni Association!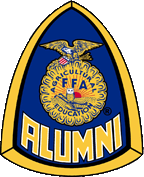 Did the FFA make a difference in your life?
Even if you have never worn the jacket, chances are you have been impacted by someone who has.
Whether you are a former FFA member, the parent of one, a business owner, a community leader, an agriculture teacher, or someone who just wants to get involved, we have a place for you.
As a member of the Alumni, you ensure that FFA members continue to have the opportunity to make a difference in the lives of others, their communities, and the world.
FFA has made a difference in the lives of Alumni members. Now, we ask ourselves the question "How can we make a difference for the FFA?"
Join us. Find out how to make the difference and get involved.