Donate Now
The North Carolina FFA Foundation, headquartered at North Carolina State University, provides financial support and public awareness for agricultural education and FFA.
Working closely with business and industry, agricultural commodity groups, individuals, and various organizations, the North Carolina FFA Foundation raises funds to recognize FFA achievements, and to support activities at local, state and national levels.
The North Carolina FFA Foundation operates under the auspices of the North Carolina Agricultural Foundation, Inc. a non-profit, charitable and educational foundation as defined in Internal Revenue Service code 501(c)3.
By using our online giving site, you can designate your gift to support any of our programs areas, such as scholarships, the North Carolina FFA Center, career development events, proficiency awards and more! You can even designate your gift to help a local FFA chapter by indicating which local FFA chapter you wish your gift to support.
You can make a donation online by clicking here. Remember, your gift is 100% tax deductible and you will receive an official receipt from the North Carolina FFA Foundation.
FFA Center Brick Campaign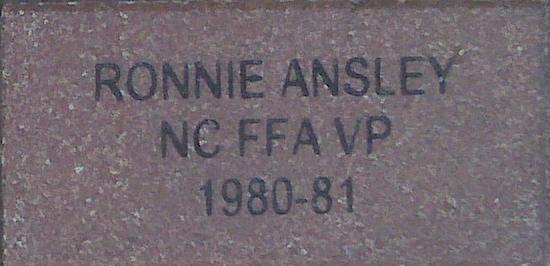 Your name or chapter can be etched into FFA History!
Become part of the North Carolina FFA Heritage! You can help improve the North Carolina FFA Center by placing your name, the name of your affiliate or chapter, the name of a friend of FFA, the name of a loved one or the name of one to which you wish to establish a memorial.
Please mail the completed brick order form to:
North Carolina FFA Foundation
NCSU Box 7654
Raleigh, NC 27695-7654
For questions, please contact Alycia McLamb at (919) 513-7068 or via email at aamclamb@ncsu.edu.